Fischer Gears, Randers, Denmark
Cobots give gear manufacturer Fischer Gears a competitive production edge.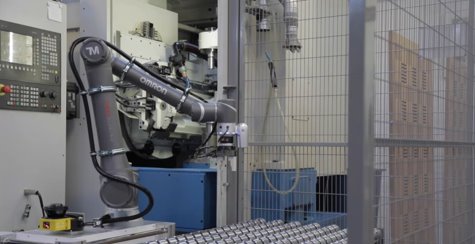 Danish gear manufacturer, Fischer Gears, has boosted the competitiveness of its production process - especially on larger series – by installing two Omron TM robots. The collaborative robots (cobots) free experienced employees to focus on more value-adding tasks.
Want to see the solution in action? Watch our quick video of this project?
In this video, discover how a comprehensive solution featuring Omron's collaborative robots dramatically improved the company's prospects with the help of Danish system integrator Nordelektro.
"It's not just another robotic investment. In principle, this is a whole new way of thinking because unlike traditional robots, the Omron TM collaborative robots do not have to be hidden away behind a fence. And if this project is a success, it probably won't be the last cobots we get into production."
Customer Need
Fischer Gears is a family-owned company that has been producing gears, cogs and gearboxes for industry and the maritime sector since 1920. As one of the market's leading suppliers, the company needs to be able to produce high-precision gears in bigger volume.
Unique Omron Solution
Fischer Gears has invested in two Omron TM collaborative robot to automate the feeding of metal parts into four CNC machines. A processes that has so far been manual.
Results and Benefits
After investing in Omron TM collaborative robots, Fischer Gears is able to reduce costs and operate production 24 hours a day. The Omron TM robots also help to release Fischer Gear factory employees to other and more value-adding tasks.